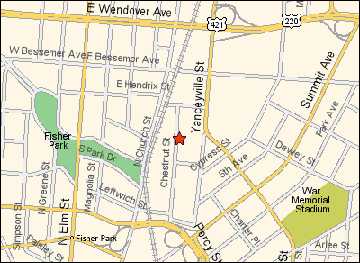 Mandrano Properties is located in Chestnut Manor at 740 Chestnut St., Greensboro, NC 27405.
About Us
Mandrano Properties is located at 740 Chestnut St. near the Historic Aycock Neighborhood in Greensboro, NC.
We can be reached by phone at 336.855.7855 or by e-mail at jmandrano@aol.com.
About Historic Aycock
The Aycock Historic District is one of three such districts in Greensboro; the other two are Fisher Park (which is adjacent to Aycock) and College Hill.
Major sections of all three districts are listed in the National Register of Historic Places, and many individual "contributing structures" -- that is, houses and buildings that meet the National Register's criteria -- are also listed there. Most of the Aycock Historic District is listed on the National register as the Summit Avenue Historic District.